I've pretty much exhausted everything so I am asking anyone if they can listen to my story and see if I missed anything -- I am NOT a typical CFS case or so my doc says and I explain why in my symptoms paragraph below -- that's why im so scared and lost. I cant keep living like this and not at least head in the right direction. I wont bore you with emotions just facts. If you know anything or can suggest anything I'd be so grateful to hear it.
Age: 29 Male
My symptoms
Have
- Extreme fatigue everyday - crash at 3-5pm, take a nap ,wake up so tired and complete my day
- Memory issues
- Since sick I only have daily temp of up to 96 degrees, I always used to be 98.3
Don't Have
- Never sore throats ever (not even once or even a tingle)
- No pain ever
- No swollen lymph nodes.
- No post extertional malaise (but I don't even have the energy to do exercise anyway).
- No fevers ever
- Flu like symptoms
My quick story
2012
1. Under a lot of stress (and fearful person), seemed like one day I had to go sleep in the mid afternoon from exhaustion, that never went away until today..... and its unreal the daily exhaustion just UNREAL!
2. Brain MRI - Nothing wrong
3. Sent me to a psychiatrist and took Prozac, made me even more tired, didn't help.
4. I went to a sleep medicine doctor thinking it was narcolepsy... tested for a sleep study and narcolepsy, doc was not convinced i didn't have narcolepsy and I never fall asleep but he mentioned words Ill never forgot "alpha wave intrusion, people with fibromylaga get it"...
5. Went to my first CFS doctor, ran every test known to man, all came back OK except my NK natural killer cells were low, she is the one who said im not a classic case.
6. Went to witch doctors who gave me every vitamin in the world, coq10, d-ribose, you name it, nothing helped.
7. Got tested for Lyme, came back negative (lived in Miami for the last 8 years)
8. Went to dentist said I didn't have amalgams in my teeth (but I am curious about "cavitations" that I want to explore more).
9. This month I went to another doctor and she measured my daily cortisol 4 times, this was the first test after the NK (natural killer) test that came back abnormal. See image for my results. My morning and noon cortisol was SKY high (46 and 19) and then dropped to normal in the afternoon and night. Adrenal failure? She put me on adrenal calming stuff for the morning and the noon, been on it for 2 weeks nothing changed, im even more tired then before. She explained that my body was running a marathon in the mornings and obviously shuts down in the afternoon from being tired, weird because I cant even run 10 feet. My DHEA was fine whatever that means.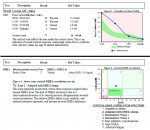 If I had the sore throats, the flu like symptoms Id say ok CFS.. and I know CFS varies in everyone but absolutely nothing I have done with vitamins, voodoo from garbage docotors, anti-depresants, or even praying affects my symptoms. Nothing I have done short term or long term as made me feel better, not even a little.
This is where I am at right now, I cant work, cant find a wife, I'm in the dumps... does anyone know anything I missed?
Thank you and much love to everyone here
Matthew